BECAUSE TWO LAWHEADS ARE BETTER THAN ONE ™
"Let's take the first step together and help you Sell or Purchase your Home. We are with you from start to finish!"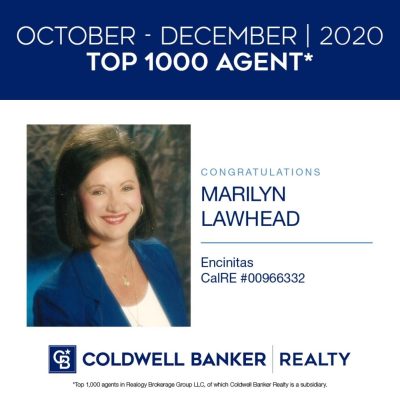 The Lawhead Team are Experienced Real Estate Agents You Can Trust.
Top 2% in the World of all Coldwell Banker agents
Marilyn has been actively selling real estate in San Diego County since 1987 and has been associated with the Encinitas/La Costa office since 1995.   She has experienced every type of real estate market including seller's markets, buyer's markets, recession, low inventory, high inventory, etc.  She has seen it all!  She is also the perfect person to handle your relocation needs as she made the move from her hometown of Houston, Texas to Dix Hills, New York on Long Island and then on to Carlsbad where she and Creighton have called home since 1983.  She knows the ins and outs of a cross-country move and is with you every step of the way to ensure a smooth transition not only for the job transferee, but also for the spouse and children.
August's HomeDex Report for North San Diego County: The Lawhead Team would like to share the latest HomeDex Report for North San Diego County for July: Summer 2022 has been a season of change for the U.S. real estate market. With housing affordability at a 33-year low, existing-home sales have conRead More
Working with Marilyn and Creighton Lawhead was absolutely wonderful! Having known them for years, we have always enjoyed and appreciated them so it was no surprise that we found them to be as outstanding as we had heard all along in the community. It is one thing to be good at what you do, but on top of that, they are perfectly genuine people. We always felt they had our best interest at heart. They were extremely sensitive to our needs, desires, goals and concerns. They joined in with our joys of finding the perfect home for us. When a few challenges arose, they were there with assurance and direction to deal with them emotionally and successfully. Their attention to detail is impeccable! As the successful professionals they are, the privilege of having their knowledge, experience and references was invaluable! They spoke of how good their Coldwell Banker office is to their employees. It shows! Thank you for that! We loved working with Marilyn and Creighton and will definitely continue to send referrals their way! Thankfully,
Dale and Linda Condy
I interviewed several real estate agents prior to selecting the Lawhead Team. Creighton and Marilyn have done an excellent job in representing me and I look forward to working with them again. Marilyn has been consistently doing a superior job as my real estate agent. She has always been very diligent in looking out for my best interests and the recent townhouse sale she handled went incredibly smoothly due to her hard work, integrity and complete knowledge of all the real estate rules and regulations. The Lawhead Team should be commended for the fine work they have been doing and the great job they did for me. I am exceedingly happy with the superior results delivered by the Lawhead Team.
Rich Heinze
We made the very difficult and hard decision to downsize and sell our home. The Lawhead Team was very professional and always on top of every detail … from listing to closing … and made the whole transaction a smooth operation. Marilyn was available and responsive at all times. The communication was excellent, continuous and thorough. Marilyn was great, wonderful, hands-on, on top of every detail. She kept us informed and in the loop always with nothing lacking. Thanks to Marilyn, the experience of marketing and selling our home was almost stress-free. All the many moving parts and pieces fell perfectly into place, similar to a challenging puzzle creating a calm, beautiful picture.
John and Gloria Dettbarn
You have a great Lawhead Team! I would actively use them, endorse them or refer them as Realtors anytime. They did a superb job in selling my home in Chula Vista in record time and for top dollar. With my living on the East Coast, I depended on them to handle all the details associated with selling a house. They took care of everything for me including prepping the house to be ready to go on the market by hiring a painter to do touch-up painting, a gardener to spruce up the landscaping, a plumber to take care of a running toilet issue and even a housecleaner to clean the vacant property. All requested repairs were also handled by them in my absence. From the very beginning to close of escrow, I felt like they were in total control of the situation and nothing was missed. I highly recommend them!
Billy Abbott
Marilyn and Creighton make a very professional team. They made us feel like we were the most important clients they had. We interacted with them every day by email or phone and they returned phone calls and emails within 5 minutes. I felt like I could always reach them and they were available 24/7. I needed some last minute work done and Marilyn was able to provide me with the best handyman, painter, etc., in a timely manner. She dealt with our plumbing company for nearly a week to get the work done properly and up to code so we could go ahead and close escrow. We appreciated all their work for us.
Janet and Phil Tripp
I cannot say enough about the services I received. I was nervous about the process and was put to ease very quickly after talking with the team. The entire process from beginning to end was far easier than I ever imagined. Great communication and nothing but professionalism from beginning to end. Thank you so much. I can't say enough about the Lawhead Team. A+++++ rating!
Josh Johnston
Service from The Lawhead Team was fabulous. Marilyn made my selling and buying process as easy as it could be. She handled the stressful obstacles very professionally and got everything done when it needed to be done. I will always highly recommend them to anyone who needs a great Realtor!
Michelle Burrier
You Deserve the Best Real Estate Agents to Handle All of Your Real Estate Needs
We have lots of experience